Events
EVENT DATE:

Friday April 12,2019 12:00:01 AM
Stampin' Up! Local On Stage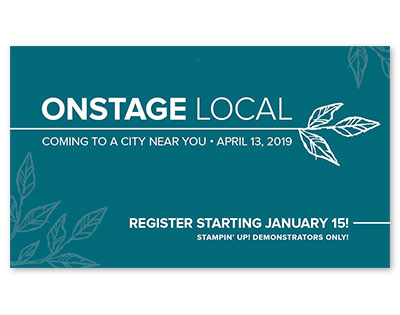 SHARE
EVENT DATE:

Friday April 26,2019 12:30:00 PM
Tips and Techniques To Get the Most Us...
Tips and Techniques to Get The Most Use From Your Stamparatus
With the Stamparatus, there are several techniques and tips to make your rubber stamping easier and expand your stamping knowledge.
We will learn 3 techniques: hinge stamping, stamping in a circle to create wreaths, and mirror stamping.
Practice time is available and when you feel that you are ready, create 3 card fronts. THere is so much more that you can do with your Stamparatus, however, I don't want to overload you.
You can RSVP below. If you have questions, please email me at
karen@simplysaidwithkaren.com
Date: April 26th - 12:30 PM - 3:00.
Cost: $15.00
Registration Deadline: April 18, 2019.
If you have a Stampartus or another brand of Stamping Poisitioning Tool, please bring it with you. I will have 2 Stampartus for you to use if you don't have a Stamping POsitioning Tool.
Please register early as there are only 6 spots available.
If enough interest is shown, I will hold another class.
| | | | | | |
| --- | --- | --- | --- | --- | --- |
| | Workshop | | Opportunity Night | | Open House |
| | Stamp Camp | | Class | | Stamp Club |
| | Downline Meeting | | Stampin' Up! Event | | Corporate Event |
| | Special Classes | | Personal | | Custom 3 |
| | Available For Workshops | | | | |