My Promotions
Northwest Stamper Customer Rewards
I love being your Stampin' Up! demonstrator and I truly appreciate my customers that come back and order with me again. So, I want to say thank you to ALL of my customers and offer each of you the opportunity to earn the stamp set you've been dreaming of – for FREE!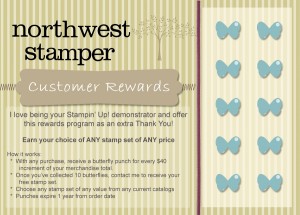 How it works:
With any purchase through me (online, workshop, email, over the phone, etc), receive 1 butterfly punch on your card for every $40 increment of merchandise on any given order.

(so $41 = 1 punch, $79 = 1 punch, $82 = 2 punches, etc)

Collect 10 butterfly punches and then contact me to select your free stamp set.

I will verify your punches and get your stamp set sent out to you right away.

Choose from ANY stamp set of ANY price from ANY current catalog for your free set.
I cover shipping and tax to get the set to you… this really is a free stamp.

Punches are valid 1 year from the associated order date.
So, enjoy your shopping and earning you way to more free goodies as my Thank You to you!
Click here to get your punch card
——————————————————————————————————-
Jennifer's Online Stamp Club!
Video Tutorials and Project Kits each month!
I've been wanting to do this for a while, so why not kick it off this month?! I run a monthly stamp club here in the Bellevue/Redmond area but I know many folks live too far away to come participate in person each month. So, I want to bring my stamp club TO YOU!
How it works:
Each month, I will have a new hostess code of the month, if you order using that hostess code, you'll receive access to a password protected area of my blog with exclusive video tutorials for the projects we are making in Stamp Club that month along with a supply list for each project.
Place any order using the hostess code and get access to those video tutorials

If your order is $40 or more before tax and shipping, I'll mail you the project kits for the projects in the video, so you can easily make them at home!

Earn the project kit for 10 months in the year and you'll earn a free stamp set of ANY value from me as part of my

Northwest Stamper rewards program

!
Videos will be posted by the 7th of the month. Project kits will be mailed out twice a month, on the 10th and on the last day of the month, depending on when your order was placed.
October Hostess Code - YG62GG6C
——————————————————————————————————-
Northwest Stamper Birthday Club
Who doesn't like presents for their birthday? Join my Northwest Stamper mailing list and not only receive the monthly newsletter filled with tips, project ideas, and upcoming information; but become a member of my Birthday Club for free.
When it is your birthday month, you will receive an email from me with a special gift for your birthday. Who doesn't like presents and something free?
——————————————————————————————————–
I periodically will offer special promotions as well. Check out my blog at www.nwstamper.com to see the latest.
Specials