Wednesday, June 29, 2016
I had a great workshop on Friday, it is always great to catch up with my friends. When I started this journey, I vaguely knew a few of the people I crafted with on Friday but not very well, and some I met on this journey. Amongst all the glue, ink and card over the past year I have met people who have become great friends. I think that is one aspect of being a demonstrator that isn't widely shared – forming strong bonds (no, I don't mean physically with glue!). Joining my team also strengthens those bonds as we sneak in extra crafty time together. You only have a few days left to earn to FREE stamp sets when you sign up.

If you were lucky enough to get a New Catalogue Survival Kit, you would have received a sheet of vouchers. For the whole of July, that means if you purchase the Fruit Stand stamp set you receive the Fruit Stand Designer Series Paper for half price (plus P+P). We used this stamp set and papers at my last workshop to create a lovely notelet set. It is a fresh and summery set, with mouth-watering fruits. I am sure you will love using it.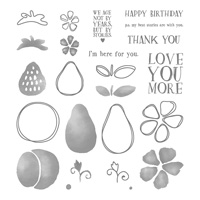 July marks my 1st Anniversary as a Demonstrator, and on Friday 1st I would like to share that celebration with you. Firstly it's FREE, there will be a little bit of crafting, little bit of nibbling and mingling and there may-be some special offers and discounts. Let me show you why I love their products and why I am enjoying my work (work, work???). If you have never been to a workshop before, if you have never stamped before, if you have never crafted before – just come and experience it. (Please email fispapercraft@hotmail.co.uk to confirm your place).

My next workshop is the 15th July, and we will be looking at techniques to do with Versamark ink. Versamark is a watermark ink, which you can use to lightly hold down embossing powders or to act as a resist to ink. But we will explore more next week! Email me to confirm you place.
Posted at Jun 29, 2016 09:00 AM | Comments [0]