Wednesday, November 14, 2018
Centre Stage for the very first time at November On Stage 2018
Fasten your seatbelt!
Phew ...take a deep breath and fasten your seatbelt for an exhilirating ride !! - here follows an AMAZING summary in a nutshell of my experience of attending my very FIRST Centre Stage event and the On Stage " Local" held in Birmingham this last weekend. It just really sums up why you wouldn't want to be missing out....and why you should think seriously about joining my Arty Stampers team.
CENTRE STAGE Event:
I was thrilled to receive my very first invitation this year as I had qualified as a "Silver Elite" demo and this made me eligible to attend the Centre Stage event.

This is the gorgeous card I received from my Upline, Pip Todman, congratulating me on achieving Centre Stage. For this event, we all received a beautiful gold embossed envelope with a select Business Stamp set and an engraved bonefolder tool. Our evening also saw us being served a delicious dinner and the deserts had me wanting to go back for more. We shared experiences and saw various demos being recognised for their achievements.
Announcements and CLING STAMPS!
Centre Stage attendees also heard a special announcement before all other OnStage attendees ore demonstrators being told! Stampin' Up! is introducing CLING STAMPS! To find out more about these amazing stamps, be sure to check back on my blog again when I will be sharing a post just dedicated to this topic.
ONSTAGE Event:
Check back in the week for the next installment :-) and more pictures
Happy Crafting
Dianne x
Posted at Nov 14, 2018 06:25 PM | Comments [0]
Sunday, April 15, 2018
Friends of SUBA present Retiring Products
This blog post first appeared on www.DianneRichardsonCraft.com



Friends of SUBA present Retiring products
Are you scratching your head wondering what on earth SUBA is! We are a group of independent Stampin'Up! demonstrators who are blessed to be friends. Our crafting passion leads us in wanting to share our creativity through social media. As a result, we are students of Simply Unique Business Angels. (SUBA are fellow demonstrators Louise Sims and Pip Todman based in the UK. They offer training to crafters who are interested in improving their technical skills.) This bloghop is going to focus on retiring products. Now let's move to crafting. With the new Stampin'Up! annual catalogue published, naturally there is a bundle of gorgeous products that are soon to retire and we want to share a few of these with you.
Number of Years my first choice
What's in a number? Well a number of years of course! As I poured over my stampsets to select a choice for this blog hop, the Number of Years topped the list. This is a set I am going to be particularly sad to see retiring. I have so much fun with these numbers when they are all glittering and sparkly. My first choice I am sharing with you is a card I created for a special friend who is celebrating her 60th birthday. I used a combination of 2 retiring products for this, the Number of Years stampset and the Bird Banter stampset.
Number of years has enabled me to recognise this very special milestone birthday celebration of hers. Bird Banter is also such a delight to work with too as the set contains such fun images that you can add splashes of colour to.
Achievement recognition

I had just put the finishing touches to this project when I was reminded of a beautiful card I received from my upline Pip Todman, to provide a little recognition for a recent achievement of mine. "Thank you Pip for this recognition! " Don't you just love how Number of years helps you celebrate any milestone event?
They say "save the best for last". This is a very significant year for Stampin'Up! too as the company celebrates its 30th year Anniversary. I am so privileged to be the recipient of this beautiful gift box below, from another very talented SU demonstrator and a very special friend and of mine, Cayleigh May. "What an ingenious idea Cayleigh and thank you for this special gift in it's gorgeous 30th Anniversary gift box".
Her choice of colour combinations works beautifully and Number of years is certainly in the headlights in the lush green glimmer paper. What really stands out for me, is just how many of us use this stampset to mark specific and special occasions and celebrations. I realise that without my Number of Years I am quite challenged if I want to mark any specific event where a significant number is involved. I think this is definitely a well loved stampset of mine now and one that I will not be parting with!
If you would like to lay your hands on the Number of Years before it is too late, you have a few weeks left. Why not pop across to my online shop where you can become the very proud owner of your own significant Number of Years set.
You may have arrived here from Carrie at the Inkynook or just starting here with Di at DianneRichardsonCraft. If you happen to get lost, just scroll down to the bottom and you will see the entire list of participants in this bloghop. A special thank you for joining us today and for more inspiration just keep on hopping.
Crafting blessings
Dianne x


Deborah – http://djccreativity.co.uk/2018/04/friends-of-suba-bring-you-stampin-up-retiring-products
Gina – http://www.emeraldkreations.co.uk/2018/04/friends-suba-april-hop-retiring-products/
Caro – http://craftwithcaro.com/2018/04/15/friends-of-suba-present-retiring-products/
Sandra – https://stampnstudio.blogspot.com/2018/04/friends-of-suba-bring-you-retiring-su.html
Carrie – http://theinkynook.com/2018/04/friends-suba-retiring-products/
Di – http://diannerichardsoncraft.com/friends-of-suba/retiring-products-number-of-years/
Leighsa – http://leighsasloft.co.uk/2018/04/friends-of-suba-april-blog-hop/
Cheryl – http://cheryldiana.co.uk/friends-of-suba-april-blog-hop
Ginny – http://celebrate-the-journey.com/2018/04/friends-of-suba-present-retiring-products
Mikaela – https://thecraftyoinkpen.co.uk/2018/04/stampin-up-retiring-products-sunshine-rainbows.html
Posted at Apr 15, 2018 05:12 PM | Comments [0]
Monday, April 9, 2018
Blossoming Basket for Spring with a rustic touch
This blog entry was first posted on www.DianneRichardsonCraft.com
Blossoming Basket
With Easter comes loads of easter baskets, eggs and easter bonnets and also this pretty rustic Blossoming Basket stampset recently added to my collection. The onset of Spring is slow at the moment and to brighten the day, I am playing with the gorgeous new basket weave embossing folder which is now in my clutches. This is also one of the products that we will see in our new annual catalogue…..yippeee!

I am using it to enhance today's card which is such a pretty and vibrant basket of flowers, set against a delicate white doily to add a few frills.
For this card I have applied two different embossing techniques. I used the basket weave embossing folder for the 2nd layer background paper. As I rather liked the rustic look and feel of the Burlap ribbon this is just sufficient to bring out the woven textures of my background paper. The basket is heat embossed with a white embossing powder and set with the heat tool which adds a shiny finish to the basket and creates a lovely offset outline for the roses.
Flower basket
I coloured the roses using a Calypso Coral Stampin' Blends pen and the Old olive pen to colour some of the leaves. I thought leaving some of the tiny leaves white almost makes them look like Baby's breath or Gypsophila https://en.wikipedia.org/wiki/Gypsophila . The Peekaboo Peach is not a colour I have worked with often so I am delighted to see the end result, especially the way it enhances the deep orange of the Calypso coral shade.
I think that while the weather remains grey, I shall be experimenting some more with this beautiful colour to bring some spring colour into the month. What colours are your favourite for the month of April ?
OnStage is fast approcahing and so are swaps
Excitement is building now as I only have a couple of days to go before travelling up to Telford to join some of my fellow demonstrators as we celebrate our next Annual Stampin'Up! #OnStage2018 event. I have been beavering away making my surprise "swaps" for the event and am so excited to soon be in swapping mode. I can't wait to see all the different inspiration from our talented demonstrators and remember to check back soon, as I will put them on display here for you to see.
Happy Crafting
Dianne x
Posted at Apr 09, 2018 06:45 PM | Comments [0]
Saturday, February 3, 2018
Are you prepared for Valentine's Day?
Celebrating Valentine's Day!
This entry first appeared on my website www.diannerichardsoncraft.com
It's never too late.
Yes it is just around the corner and if you are not ready for Valentine's Day yet it's not too late so don't despair. Not too sure about what you can spoil your loved one with, look no further. If you want to spoil that special person in your life, you need to be creating a handmade card or gift package crafted with love and sharing a part of who you are with them.
Painted with Love
I find this "Painted with Love" suite from Stampin'Up! such a luxurious and inspirational set of products to create with. The beautiful "Painted with Love" patterned papers are simply fabulous and so lush. Need I say more. The colourful, sophisticated designs of the papers - with gold foil adding glamour and accents on the double sided paper - and brushstroke imagery on the other, really do look as if each sheet has been handpainted. What a genius combination of brushstroke artistry and blend of colours.
Ideas and Inspiration
Time a challenge for you and are you struggling to find inspiration for that Valentine card design this year? I have great news for you. You need look no further!

This is where my current catalogues are so useful and worth their weight in gold. They are always a fantastic source of ideas and inspiration for any cards or projects I am designing or making. I simply add a twist here or there or a colour change and end up with a beautiful and professional design.
My challenge to you is believe that you CAN do this and get out those crafting scissors and glue. If you like these projects, you can make them too. I would love to see your designs so please share in the comments. If you want to make these specific projects, you will need the papers, stamps and dies found in the Spring Summer catalogue. You can find these items in my shop by selecting the Shop tab on my site.
Happy crafting and don't forget to share those designs!
Dianne x
Posted at Feb 03, 2018 08:45 PM | Comments [0]
Friday, July 14, 2017
Eastern Beauty painted Berry Burst
This entry first appeared on my website www.diannerichardsoncraft.com

Eastern Beauty - have you ever associated this with Berry Burst? You may not have heard of this colour label. In the Stampin'Up! world it refers to a deep shade of pink in the colour spectrum and it is one of the "new 2017 - 2019 In Colours". What this means in the world of Stampin'Up! is that this colour is available for two years before the range changes.
Eastern Beauty Stampset
This morning I caught a glimpse of the beautiful deep pink shaded Hibiscus in my garden and I had to make a card using the Berry Burst Stampin'Up! ink and coloured cardstock. This is a perfect match with nature and it is amazing how certain colours can just communicate the perfect look for your creation.
Stampin'Up! Berry Burst
Eastern Beauty
.

Did you also know that the Hibiscus is the national flower of multiple countries in the world, including Haiti, and Malaysia. It's also used in various teas in India and is traditionally worn by Tahitian and Hawaiian girls. One species of Hibiscus, known as kenaf (Hibiscus cannabinus), is extensively used in paper-making. This is so appropriate for our field of papercrafting.
Pure Berry Burst
Now let me take you from Eastern Beauty to pure Berry Burst. This shade of pink has to be one of my favourite
Berry Burst Designer Series Paper
colours to work with and so here is another card to share with you. This is a double twisted easel card and I am sure you will find lots of inspiration for further easel card designs here Images for Easel card templates.
The beautiful Berry Burst Designer Series Paper contrasts well with plain white cardstock and I have also used the new Stampin'Up! Label Me Pretty Stampset
Why not share with me your favourite easel cards below. I think my challenge still remains to create a home decor frame for my next blog post. Be sure to check back soon for the update. Any of these products can be purchased from my online shop.
Crafty blessings
Dianne
Posted at Jul 14, 2017 04:59 PM | Comments [0]
This entry first appeared on my website www.diannerichardsoncraft.com
July...
...heralds the start of summer here in the Northern Hemisphere and I am enjoying the brand new Stampin' Up! Delightful Daisy suite - creating a variety of cards and home decor mini projects. Even the new "Faceted gems" are delightful as they have such depth to them and glimmer at any angle, adding sparkle and depth to the beautiful delightful daisy blooms with their white frills. The fun doesn't stop here. Daisy Delight Stamp Set and the Daisy Punch have a remarkable ability to also be transformed into vividly coloured Gerbera - which are bright and cheerful daisy-like flowers.
Delightful Daisi

es
Did you know one of the species of gerbera flowers are sometimes called African Daisies. It is also believe it or not, the fifth most used cut flower in the world (after rose, carnation, chrysanthemum, and tulip). The African variety also called Barbeton daisies, given my part African descent, makes the Delightful Daisy product suite even more delightful for me! Doesn't this picture just remind you of hot African sun with the various bright, deep shades of orange and rich yellow? How stunning and rich are these colours, including the contrasting backdrop of green leaves? Nature is simply incredible in the colour palette it displays.
What can you create using this bundle?
I love using various images from nature to often inspire the creations I make....and so today I thought I would share a few cards that are the result. In typical Stampin' Up! style, I have also "case-d" one of them and adjusted it slightly (and if you don't know what to "case" means....it stands for being able to Copy and Share Everything).
Now I wonder if I can create a picture frame box filled with a bunch of Delightful Daisy ...oops, correction, African daisies? So, it's back to the craft table then! Be sure to check my blog again soon and discover more of my summer escapades. I would love to see some of the creations you are making this summer! Why not share a picture of how you have been inspired this summer? You can also add a comment and share with me where you find your inspiration.
Crafty blessings,
Dianne
Posted at Jul 14, 2017 04:49 PM | Comments [0]
Monday, April 25, 2016
Spring has sprung in the world of crafting !
Hello again crafting buddies....today I thought it would be fun to share with you two cards I made using some of the lush papers from the Spring-Summer catalogue that launched earlier this year....don't you just love the pink glimmer paper and the fine gold thread in the first card ?
Well I decided that as it has also taken me awhile to get back to my blog, I really needed to share more than just this one card with you today - and so as a treat for this week, I am also sharing a card I made for a very special and dear friend.
I hope you like them and see you back here soon !!


Crafting blessings to honour special friendships

Posted at Apr 25, 2016 11:20 PM | Comments [0]
Saturday, January 2, 2016
Happy New Year and Welcome 2016 !!
Happy New Year and welcome 2016!!!

As we are all celebrating the start to a brand new year and a blank canvas of 366 days in 2016, I thought it a good time to send you all my "Happy New Year" wishes and to say "hello" to you all.

Have you celebrated a Christmas season with lots of eating, being merry and sharing time with family and friends? I have spent a fairly quiet but tiring Christmas with my family this year. My husband had his double hip replacement surgery in December he has been making slow but steady progress. As you can imagine, it has been a full time job taking care of him and now is the first opportunity that I have been able to sit back at my computer and feel like I am in touch with my crafting world and friends again.

So the exciting news is that I now have a schedule with my class, workshop and open house crafting dates for the first quarter of 2016 - yippeee !!! I have posted them all on my site and if you look under the "Events" section you will find them. Be sure to get these dates in the diary early and also remember to let me know which classes or events you will be joining. New crafters are always welcome to join us and if you have never tried making card crafts before, there is no time like now to start !!.
Sadly for someone that loves crafting and making cards especially, I didn't post one Christmas card this year as time ran away whilst I was fully occupied with events at home and trying to keep my day job going. This is something I definitely intend to change this year....and I have decided all the more reason to start sending cards throughout the year, just to say "hello", or sometimes to remind people how special they are in my life....and to send unexpected "thank you" notes too. I have just realised how very special it has made me feel and how I have been uplifted by a few surprise cards that I have received in the post - so it is a practice I am going to try and follow from now on too - to bring a smile to someone and to use a handmade and hand written card to give someone a "virtal hug"...you just never know the impact that it has or how it may lift them up just at a time when they can really do with some encouragement.
The other great news to share with you, is that Stampin'Up! are running their annual Sale-a-bration event from the 5th January - 31st March so there is a wonderful opportunity to earn free products during this time!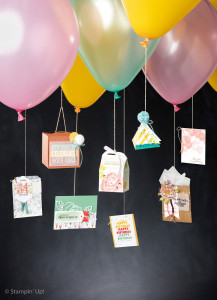 Be sure to browse the Online shop on my site to learn more about this or contact me and I can tell you more about it. Here is to a very bright and creative 2016 !!!

Big hugs and blessings
Dianne
xx
Posted at Jan 02, 2016 08:00 PM | Comments [0]
Sunday, November 29, 2015
...and what a lot of fun we had ! One of the reasons I just love running my monthly classes is that at this time of the year, I get to plan and hold a BUMPER fun class. This year has been no different. With an excellent attendance yesterday, we had the most memorable day creating some beautiful projects , sharing ideas with some new crafters too that joined us for our Christmas all day event.
Each year I am simply blown away by the beautiful items that the ladies make and it is wonderful to see how supportive they are of each other too .... when anyone new arrives and hasn't crafted before, there are always so many offers of help and such support and encouragement for every one - and that's what I love - to see the generosity of spirit in our group and the welcome everyone is given.
Besides the crafty creations, we had such a feast too with all the delicious food, bakes and choccies of course.

One of the highlights this year, was that I as able to also share some of the beautiful "swaps" that I had brought back from the recent first ever Stampin'Up! OnStage Live event in Brussels 2 weeks ago... my fellow crafters were very impressed with all the beautiful creations made by demo's from across Europe and loved the ideas and new inspiration this has given them.
Thank you Stampin'Up! for helping me to enjoy what I love doing and to be able to share that creativity and inspiration with others.

Posted at Nov 29, 2015 07:05 PM | Comments [0]