Monday, February 18, 2019
Mailable Monday with Botanical Butterfly - SAB 2019
Welcome to another fabulous Mailable Monday!
After a wonderful 3 days off, tomorrow is a new day.
I enjoyed my visit with my brother over the past 5 days was awesome and I was so glad he came.
I was asked to bring a card tomorrow for our Demo meeting and I knew exactly the card I was wanting to try. I only spent an hour in my craftroom this whole weekend so I knew this was a quick card to make, so much so I made 4 different ones!
I wanted to bring extras to show you can make this style in any size, so I am sharing 2 today using the Botanical Butterfly SAB Paper pack. I cased this card from fellow SU Demo Lisa Cuscio, she is an awesome lady with great ideas.
Card #1
4 1/4x 5 1/2 Card

Card #2
3x3 Card


I am loving this paper pack, so much so I have ordered 2 extra packs!
We will be making the top card tomorrow, but I did make the cut wrong, oops! I wrote down the wrong number! Who knew half an inch would make such a difference!?!
I still love how they both turned out.
Make sure to check back again and see what paper I used on the next 2 cards I made.
Have a fabulous evening!
Thanks for stopping by my Blog!
Michelle
Posted at Feb 18, 2019 08:51 PM | Comments [0]
Monday, June 18, 2018
Mailable Monday - Bridal Shower Cards
Hello and welcome to another Mailable Monday!
We had an wonderful weekend, spending time with family and friends.
I attended a Bridal Shower for a special friend. It has been years since I attended a briadal shower and it was so fun to play the games and share some great laughs.
I made 2 cards for the bride to be. One from me and one from my Mom.
Here's what I came up with.


This is a tri fold card. The outside is a regular card base with one of our Note Cards glued inside. I love how it turned out. The Bonus was that I had ordered the new Wonderful Moments. This stamp set is perfect for so many happy occassions.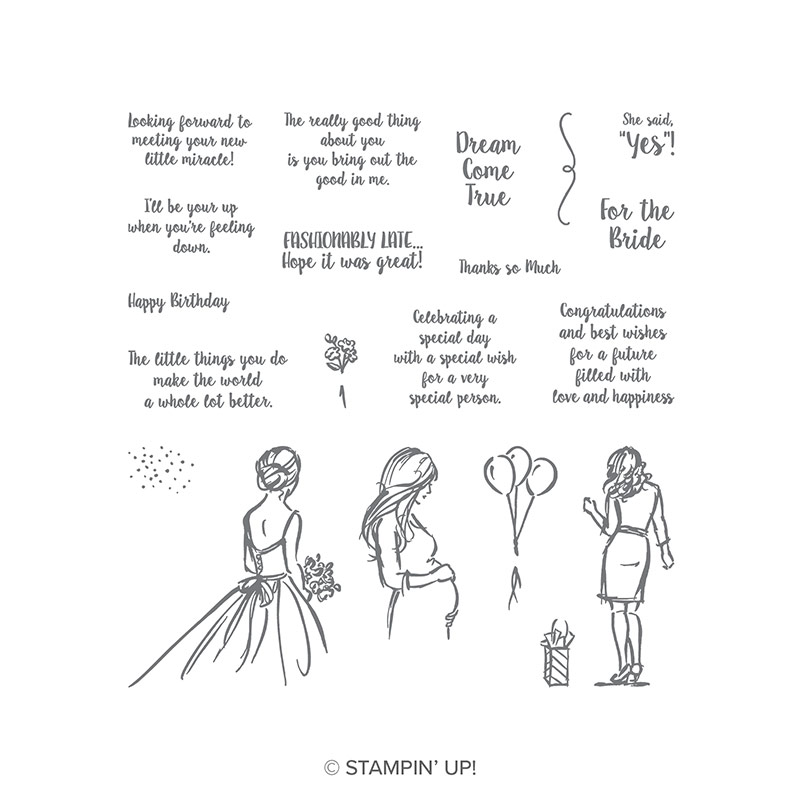 Wonderful Moments Stamp Set #147529
The second card I created used the new Stitched All Around Bundle #148374
Blackberry Bliss is back!!! This is one of my all time favorite colors that has been brought back with the Color Refresh! This color looks beautiful with Smokey Slate.
Did you notice the new Tufted Embossing Folder??!! You need to own this, so pretty, for sure going to be another favorite for sure!
Thanks for stopping by today!
Check back tomorrow cause I have a super cute card my daughter received yesterday, I know you're going to love it!
Have a wonderful day!
Michelle
Posted at Jun 18, 2018 12:00 AM | Comments [0]
Monday, May 21, 2018
Mailable Monday New Explosion Fold Card
Welcome to another Mailable Monday!
Today I have another quick card to share with you today.
Trust me when I say it is easier than it looks! I will also attach a Video at the bottom of my post.
Explosion Card

I used the Eastern Elegance Stamp Set and DSP.
The main stamp set is Share What You Love, new in the up coming catalogue!
My Card Club ladies also made a similar card last week. It really is so easy to make!
Here is the Video by Stampin Up Demo Dee Slater, have fun!
Posted at May 21, 2018 12:00 AM | Comments [0]
Monday, May 7, 2018
Welcome to Mailable Monday! It has been weeks since I have posted a card for Mailable Monday, so today I have a perfect card!
I created this card for my special Swap Sister in Ontario. It used up a bunch of scraps from my favorite DSP pack, Picture Perfect Party! I thought I had bought an extra pack but can't seem to find it anywhere! I will find it only after I order another pack, can you relate!!??
I rarely throw out paper scraps, especially when they are this beautiful. I ended up making a couple cards and still have a ton of scraps left to make more!
This makes a perfect Mailable Monday card!


I used a brand new stamp set called Share What You Love.
Love how this came together so quickly. Using the Adhesive Sheet was a big help!
Yup, I better order another pack!
I just have to share this picture. I drove to Hanna Alberta on Saturday to meet my brother and pick up my Mom and step Dad. As I drove through Youngstown I saw this cool Tireman all dressed up. I had to stop and take a picture on our way back. I can't believe its been 1 month since the accident.


It warms my heart to see all the support for this team.

Thanks for stopping by!
Michelle
Posted at May 07, 2018 12:00 AM | Comments [0]
Monday, February 12, 2018
Mailable Monday Penny Roller Card
It's Mailable Monday everyone and another cold one at that!
I am so over this weather and would love to have some plus temperatures anyday now!
I have a super duper card to share with you today! Love the old penny roller cards, so excited to make one with the New Saleabration stamp set and Celebrate You Dies.



I used the Sliding Door Framelits to create the runner for the Penny Card Roller!
In the "Old Days" LOL, we had to use the now retired Word Window Punch. It didn't always gaurantee a straight line.... trust me! This one comes out perfect evertime!
I just love the Picture Perfect Party 6x6 DSP to add fun and whimsy to the card. And who doesn't think a rolly polly Panda is a fun addition to the card!
This card is too adoreable and will put a smile on everybodies face!
Thanks so much for stopping by today.
Please stop by again and see what u've been up to.
Michelle
Posted at Feb 12, 2018 12:00 AM | Comments [0]
Monday, February 5, 2018
Mailable Monday is here!
Can you believe I spent most of the weekend in the craftroom! I was busy getting ready for Card Club tomorrow and being -34+ outside with the wind chill, inside was the perfect place to be!
I forgot to share a couple cards the Ladies made at our last month's Club Night.


They got to choose between the Panda and the Valentine card! Too Cute!
I can't wait to share the cards we will be making so please check back to see what we have been up to!
Happy Stampin!
Michelle
Posted at Feb 05, 2018 07:54 PM | Comments [0]
Monday, January 22, 2018
Welcome to Mailable Monday, this is the special day I share a card that should not cost you extra at the post office! FYI TIP: just to be sure I ALWAYS get them to weigh and measure my envelope before I send it out. It only takes a minute and will save you a trip in the long run.
Today I wil share my first Barn Door Card I made! It was so easy and by watching the following Video will give you the confidence to make your own easily I promise.
I told everyone I shared this card with how the Video makes this card assembly a breeze I promise!


I made this card exactly like the video. The door slides to show the greeting on the right side! Although I didn't photograph it, you will see in the video the finished card.


My second card features the This Little Piggy Stamp set. I will share with you tomorrow, I still have to photograph it!

Stamps: Barn Door
Cardstock & Ink: Pool Party, Basic Black,Crumb Cake
Markers: Garden Green,Melon Mambo, Pumpkin Pie, Daffodil Delight
Sliding Door Framelits Dies, Big Shot, Mini Dimentionals, Foam Adhesive Strips, Basic Pearls, Tombow Glue

Better yet! This set is offered as a bundle where you save 10%! Who doesn't love to save money.
Have a great day and we will see you again tomorrow!
Michelle
Posted at Jan 22, 2018 12:00 AM | Comments [0]
Monday, January 15, 2018
Hi! I finally have my new computer and am back up and running!
I have a super cute, super quick card to share.
Yesterday the ladies came over for an afternoon of card making. There were 5 of them and we had so much fun.
I was panicking because I needed a 3rd card and I was blanking. I made this card with 5 minutes to spare and then let them pick out the paper they wanted to use! It was a win, win. The paper honestly does all the work, the hard part is picking only 1 pattern.



No stamps were used on this card!
DSP: Picture Perfect PArty 6X6
Cardstock: Berry Bliss, Lemon Lime Twist, Myths & Magic Glimmer Paper
Berry Bliss Ribbon, White Bakerstwine
Scattered Sequins Dynamic Textured Impression Embossing Folder -Whew!
Free Saleabration Dies - Celebrate You
Big Shot

I LOVE this card, so bright and cheery!
Check back tomorrow and I will share the ones the ladies made!
Have a fabulous Monday Friends
Michelle
Posted at Jan 15, 2018 12:00 AM | Comments [0]
Monday, November 13, 2017
Hello and welcome to Mailable Monday!
I made this card last weekend for my BFF. She finally caught up to me... in age that is!
I decided to make her an Eclipse Card that is all the rage right now! I used the Beautiful Bouquet Stamp set and some brightly colored ink!


I randomly stamped abunch of colorful flowers and leaves and then ran it through the Big Shot using the Large Number
Dies. Honestly it's really just that simple!


I always off set the numbers or letters so you can see a bit of the colored paper to out line them so they pop. I didn't offset enough on this card and is a little harder to see on the screen, but she did love it, so that makes me happy!
That's it for today folks!
Have a fabulous day!
Michelle
Posted at Nov 13, 2017 12:00 AM | Comments [0]