Sunday, April 14, 2019

Hello! So this is how I feel today! Sadie says it all!
This past week was super busy to say the least.
I was busy organizing the daffodil sales for the Canadian Cancer Society, which was a smashing success. We sold out super early. So we know for next year to order more flowers. Thanks to all the people who volenteered their time to help such a great cause.

I was also prepping this past week for yesterdays craft show in Kerrobert! Thanks to my friend Sharon for taking the time in the evenings to come help me prepare. She was a lifesaver!!
Then in the midst of my super crazy week, poor Max the dog got sick, and I mean sick! Throw up 9 times in 3 hours sick! Which continued into the next day. So up to the vet he went where he spent the day in observation. He really wasn't himself, but after blood work, xrays, antibiotic shots everyday and special dog food diet & pills for the next week he actually wagged his tail today! And here I almost wrote him off for doggy heaven. Nothing that $500+ can't fix! We do love our pets don't we.
To end off the week, as soon as I got home from the craft fair, I quickly changed clothes and went to help cater a wedding reception for my friend Jackie. I truely love helping this fabulous lady. It's always quick, exciting and lots of work but it is so much fun and the food afterwards is to die for! I do not eat this well at home, Prime Rib!! Are you kidding me... Yes Please! It was so delicious, I really have no words.
Alright, enough about my week, let me share these super cute treat cups that are available from Stampin Up!


Now my friends know how much I love paper and even more, how much I hoard my paper! LOL! I know we all do it. But this Gummy Bear DSP is the reason I bought this Sweet Treats paper pack! And I actually used it!
These are food safe treat cups and the Shreddie you can fill the cups with is on the Clearance Rack for $4 and you get a very large bag of 3 colors!
Thanks for stopping by today! Check back again for more shares.
Michelle
Posted at Apr 14, 2019 08:04 PM | Comments [1]
Monday, April 8, 2019
Mailable Monday - You're Inspiring
Welcome to another Mailable Monday card share.
I was lucky enough to borrow this set from a friend to create my fabulous thank you cards!
I will also have to give credit to the other fabulous creation from Stampin Up! the wonderful Stamparatus! Without this tool from SU! I would not have been able to create 25 identical cards in an afternoon.
If you know me, I will honestly tell you that I cannot, and I repeat CANNOT!! make more than 8 cardsof the same design. I have worked my way slowly from 2 to 6 to 8! That seems to be my new limit. I get bored very easily, so having to make 25 of the same card is truly amazing!
This stamping tool is a must to add to your stamp room. You might not always use it but when you need it you NEED it! LOL!
Here are my thank you cards, now I just have to sign them all...


Stamps: You're Inspiring, Artfully Aware
Cardstock & Ink: Whisper White, So Saffron, Memento Black Ink
Stampin Blends: Light Daffodil Delight,Light Granny Apple Green, Dark Mango Melody
Note Cards - Micheals
I didn't have enough SU note cards in my stash so I stopped in at the big box store and grabbed a couple of packages to finish the job!
I will be handing these out this week to some very special people! Maybe you will be one of them.
Have a super Monday friend!
Michelle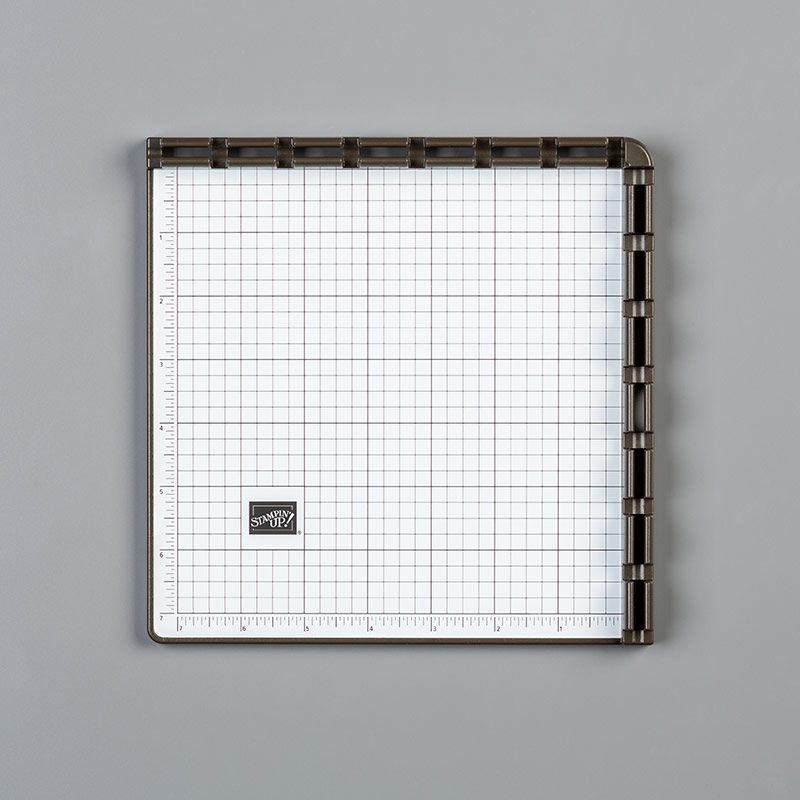 Posted at Apr 08, 2019 12:00 AM | Comments [0]
Sunday, April 7, 2019
Good morning! Welcome to my Sunday Shares.
We wrapped up another successful all day crafting fair in Glidden yesterday.
I didn't get as much done as I was hoping for, but to be fair we did have a power outage for 2 hours. Luckily I was coloring my stamped images so I was able to see enough to do that.
I finished 25 thank you cards that I am needing this week, so I am very happy with that. I will share those cards tomorrow for my Mailable Monday Blog post, so check back again tomorrow!
I also taught a bag making class in groups of 2, so that was fun to!
We made these fun bags that I also shared in my Friday Blog Hop post. These are 2 that I gave away to my Card Club members as a thank you. I still have to make the rest today! I cased these from the fabuloius Lee Ann Greff, SU Demo.


I used the beautiful Botanical Butterfly DSP from this years Saleabration Catty. This is a great way to use up all the beautiful paper I tend to hoard!

Stamps: Butterfly Gala, Wonderful Moments
Cardstock & Ink: Basic Black,Whisper White, Memento Black Ink, VersaMark ink, Botanical Butterfly DSP
Stictched Framelit Dies, Big Shot, 1-3/8" Circle Punch
Butterfly Punch, Ribbon, White Embossing Powder, TomBow Glue, Dimentionals, Glue Dots

Thanks for stopping by today!
Please check back tomorrow for my Mailable Monday post.
Michelle
Posted at Apr 07, 2019 11:21 AM | Comments [0]
Tuesday, March 19, 2019
The Clarkes - Family & Friends
Hello and thanks so much for stopping by my Blog today!
I have a really cute project to share with you today using the Family & Friends stamp set.
This could easily be made into a card front, but I really wanted to make a framed piece.
This is only the second time I have used this stamp set and it's pretty easy to use I must say.
Here is my framed creation!

Ok so first I will point out that I forgot to stamp my husband with the goatee stamp for his stash and beard! I think the easiest way to solve this little mishap is to have him shave his beard! Problem solved, I think anyways! He might not go for it though, haha!!
Thanks for stopping by!
I will be offering a class with this set soon, it's just too cute not to!
Happy Stampin!
Michelle
Posted at Mar 19, 2019 09:45 PM | Comments [0]
Sunday, March 17, 2019
Happy St. Patrick's Day everyone.
Today was a special day, as it was my Mom's 82nd Birthday. That is amazing in my books! She is an amazing woman and that my friend calls for an amazing card don't you think!!??
I bought the Family & Friends stamp set a couple weeks ago and decided to ink it up today. I love how my card turned out and more important Mom loved it to.
I followed Dawn Griffiths Video

HERE

for insperation for this Fancy Fold card.
Inside Base


What do you think? I also love this paper from Sweetest Things DSP 12x12 paper pack.
I am going to miss Lemon Lime Twist it is such a bright and fun color and goes with everything!

Thanks for stopping by today.
Michelle
Posted at Mar 17, 2019 09:17 PM | Comments [0]
Monday, February 25, 2019
Mailable Monday - Dragonfly Friend
Hello and Welcome to the last Mailable Monday of the month.
I can't believe that February is almost over, with that I am hoping for warmer weather next month please!
Today I cased a card by fellow SU Demo Kerry Bunting in Australia. I loved this card for 2 reasons, it uses the dragon fly cutout which has been feeling very unloved in my craft room, and 2nd it uses the Grapefruit Grove Foil paper which has sadly sold out... But you could easily use the Copper Foil paper in its place.


This paper picks up all the light in the room, so it is very hard to photograph. With that said I really love how this turned out.
I just unpacked the Well Said Bundle that arrived on my doorstep late Friday afternoon! Just in time to play with it on the weekend.
The stary dust copper trail is from the Star of Light stamp set.

Stamps: Star of Light
Blueberry Bushel Cardstock, Grapefruit Grove Foil Paper SAB 2019
Framelit Bundles: Well Said (Friend), Detailed Dragonfly,Rectangle Stitched Framelits (Frame)
Versamark Ink,Copper Embossing Powder, Heat Gun, Tombow Glue, Dimentionals, Big Shot

Thanks for stopping by!
Happy Stamping.
Michelle
Posted at Feb 25, 2019 12:00 AM | Comments [0]
Tuesday, February 19, 2019
Hello! I just arrived home from our monthly Demo meeting and we made some really cute cards that I will share this week.
I shared the Butterfly card I posted yesterday and the ladies loved the simplicity of it. I also shared all the cards I made using this technique and I have 2 more to share with you today.


I used the All My Love DSP. When using this technique, just make sure the back side of the paper co-ordinates nicely with the front, you don't want them to compete with each other!


I just LOVE this fun paper, How Sweet It Is DSP. I bought it for the 2 pages of Gummy Bears! LOL and still haven't cut up those sheets yet!
But I have had fun using all the other sheets for our Card Club card and this fancy fold card. I love how this one turned out, so cute. The co-ordinating 2 sided ribbon is so beautiful! Love how well SU is so matchy, matchy!

Thanks for stopping by today!
Join me this coming Sunday and we will be making one of these cute cards!
Happy Stamping!
Michelle
Posted at Feb 19, 2019 09:54 PM | Comments [0]
Monday, February 11, 2019
Mailable Monday with Lovely Lattice - SAB 2019
Ok, so before I start todays blog post, please let me start off by saying....
I lied in my last blog post! Yup!! So it hasn't warmed up like they said it was supposed to! So sorry about that... I guess it did warm up alittle.. -46 to -36, so as you can see, really not much of a difference. There, that makes me feel better. Thanks for listening!
Now onto todays Mailable Monday Blog post.
I saw a beautiful card made by fellow SU Demo Tracey Elsom using the beautiful Lovely Lattice stamp set that is FREE with a $60 purchase until March 31st.
This card is a real must see in person kinda card, the pictures really don't do it justice but I will tell you how I made it.


Close up pictures


This image is Gold Embossed!
But alot goes into this way before the embossing!
Using your Stamperatus stamp the image using Momento Black Ink.
Color image using our Stampin Blends Alcohol Markers. Make sure you color over the lattice parts using the Dark Black Marker and the dotted ring part with Light Smokey Slate. I actually meant to take a picture once I was finished coloring it, but got so excited, before I knew it I was adding the embossing powder! Oops!
So once you are finished coloring, place it back in the Stamperatus, ink up the same stamp now with Versamark Ink and stamp.
Add Gold Embossing powder and heat set.
I also missed the part of running my Embossing Buddy over the front before stamping the Versamark Ink, oops again! Can you tell I was excited!

Stamps & Ink: Whisper White,Smokey Slate,Black Momento Ink,Versamark Ink
Stampin Blends: Petal Pink - Light & Dark, Flirty Flamingo - Light & Dark, Granny Apple Green - Light & Dark, Light Smokey Slate, Dark Black
Gold Embossing Powder, Heat Tool

Thank you so much for stopping by today!
We have Card Class on Tuesday so I will have more to share with you.
Michelle
Posted at Feb 11, 2019 12:00 AM | Comments [0]
Friday, February 8, 2019
Finally!!!! The cold spell has snapped. My word.. We have been having ridiculous weather lately.
It is still cold but hopefully we're over the -40's for a long time!
Now onto my card shares today.
I was blessed to receive 2 cards today from 2 very special friends. They both delivered them to me at work today and I love them both! Handmade cards are truly the best because they are made with purpose and love!


Thank you so much Sharon & Shirley for the beautiful cards.
I truly appreciate your friendship, I am one lucky girl.
I still have cards to share from last weekends Card Workshop.
Check back soon and I promise to post them!
Have a fabulous day friend!
Michelle
Posted at Feb 08, 2019 12:00 AM | Comments [0]