Sunday, March 31, 2019
NC Demos March Blog Hop - Cute Critters
Welcome to our NC Demos March Blog Hop! I am so happy you decided to check us out. We have a record number of demonstrators participating this month, so there's lots to check out. You may have hopped here from Trish Todd's blog, and I know her project was just amazing!

I'm so thrilled that this month's theme is Cute Critters
We have quite a selection of stamps sets pertaining to critters, so it was a little difficult for me to narrow down the card I wanted to submit. We recently added several adorable sets in the current Occasions Catalog, so I decided to choose one of them.
The stamp set is called Happy Tails and I used the coordinating Dog Builder Punch. Isn't it just too cute?? You can stamp the dog just as it is, or you can add large or small spots. And of course there is the prerequisite dog house along with some other accessories. The sentiments are cute too!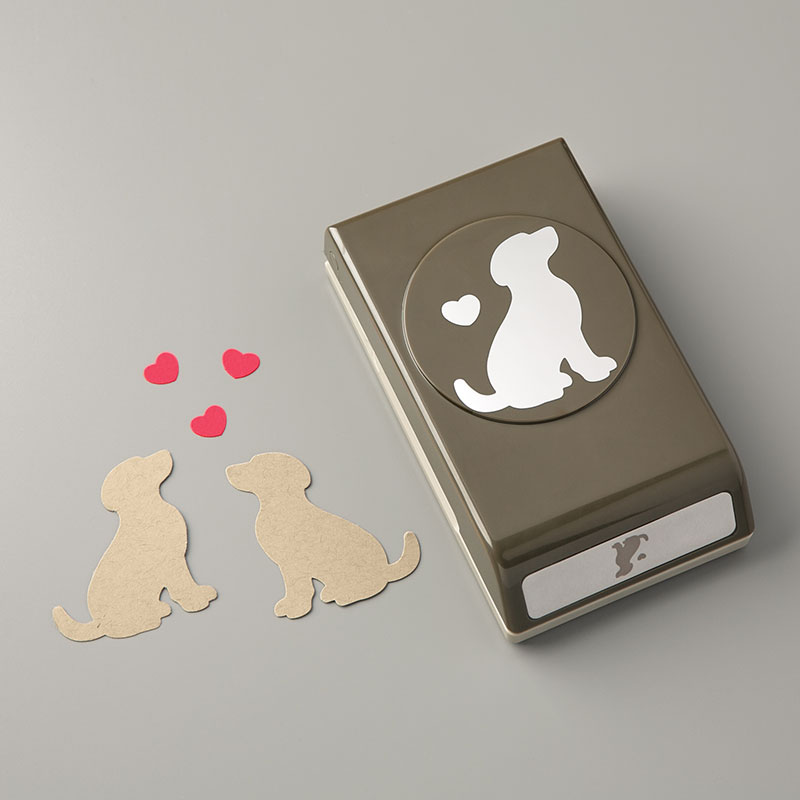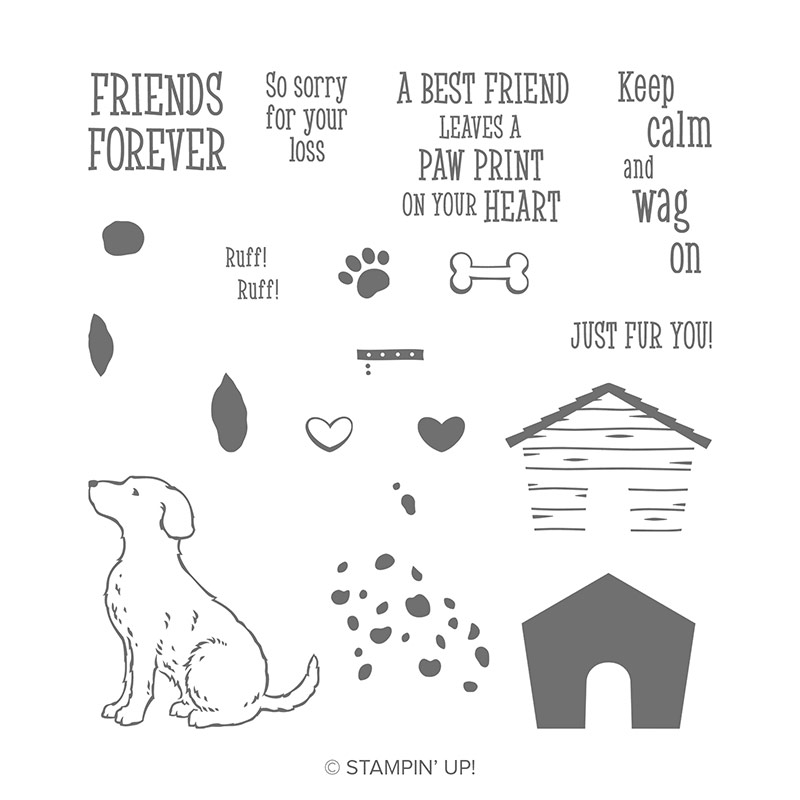 .

The front of the card is fairly simple. I stamped the dog using the smaller spots, stamped the collar and punched it out. Then I stamped the dog house in black and used Real Red for the primary color. Next I stamped several grass images using a stamp from the High Tide set. I used a sponge dauber and Garden Green Ink to add some depth to the grassy area, I added Dimensionals to the dog and placed him next to the dog house. Then I took a scrap of Crumb Cake cardstock and stamped and cut out the bone and placed it over the door for decoration. And last but not least, I stamped the sentiment, hand cut it into 2 pieces and then layered with Real Red and Basic Black.
I had a specific idea of what I wanted to do with the inside of this card. I attempted to do a pop up card of sorts. It's kind of hard to see it from the photos. But, the dog houses do pop out when you open the card. I guess I'm going to have to figure out how to add a videos to my blog posts so I can show things like this! You can see a little more of the fold in the picture on the right..
For the dog house strip, I used the Stamparatus to evenly stamp 4 houses, Then I fussy cut around the peaks of the houses and left about 1/4" of cardstock on each side to use for adhering the strip to the inside of the card. I then scored between each house and about 1/4" from each end to allow for the flaps.. The strip was then folded like an accordion and I placed tear tape on each end. I practiced my positioning so that the card would close without any of the folded strip peeking out, but it also needed to pop out when the card was opened. Once I was satisfied with the positioning, I removed the tear tape backing and pressed each end to make sure the strip was secure. I finished the inside with 2 panels of Whisper White and used the Detailed Trio Punch to add a little pop. I definitely would like to practice this a little more, but for my first attempt, I was pleased with how it turned out. Supplies for this card are listed below.
I hope you enjoyed my Cute Critter. If you love Happy Tails as much as I do, you can order the bundle HERE. Since this set was introduced in the current Occasions catalog, we don't know yet if it will carry over to the next Annual Catalog so get it now while you still can! (Savings Tip: Did you know that when we offer a stamp set with a coordinating punch or set of dies, you can save 10% when you purchase them as a bundle?)

Now please continue on to see what the rest of this talented group selected as their Cute Critters. I know you won't be disappointed...! Sue Stapp is the next stamper on the list


Thanks for visiting!!
Jackie Claes
Tina Lesson
Trish Todd
Toni Campana > YOU ARE HERE!
Sue Stapp
Tracie Evans Langley
Jo Anne Hewins
Laurie Meier
Frances Wagner
Anita Trippi
Product List
Posted at Mar 31, 2019 08:00 PM | Comments [7]
Thursday, March 7, 2019
NC Demos February Blog Hop - Keeping it in the Lines
Hello! Welcome to our monthly NC Demos Blog Hop! You may have just visited Frances Wagner's blog and seen her amazing project! Thank you for continuing on through the rest of this months hop participants.

Our theme for this month is 'Keeping it in the Lines'. We were challenged with using our favorite line stamp set (how do you pick just one!) and then using our favorite coloring method. SU! provides a LOT of options for that. I find that I always forget how much I like coloring until I sit down and do it. I will say, I definitely have to be in the mood for it, but once I start it is so relaxing to me.

The stamp set I chose was one that I received as a gift at last April's On Stage event. And I'm slightly embarrased to say that this is the first time I've used it
. It is such a pretty set of images, I just felt like they were so small and I wasn't quite sure what I'd want to create with them. So the poor stamp set sat on
the shelf, just waiting to be loved! (Click on the image if you'd like to add this to YOUR stamp collection!)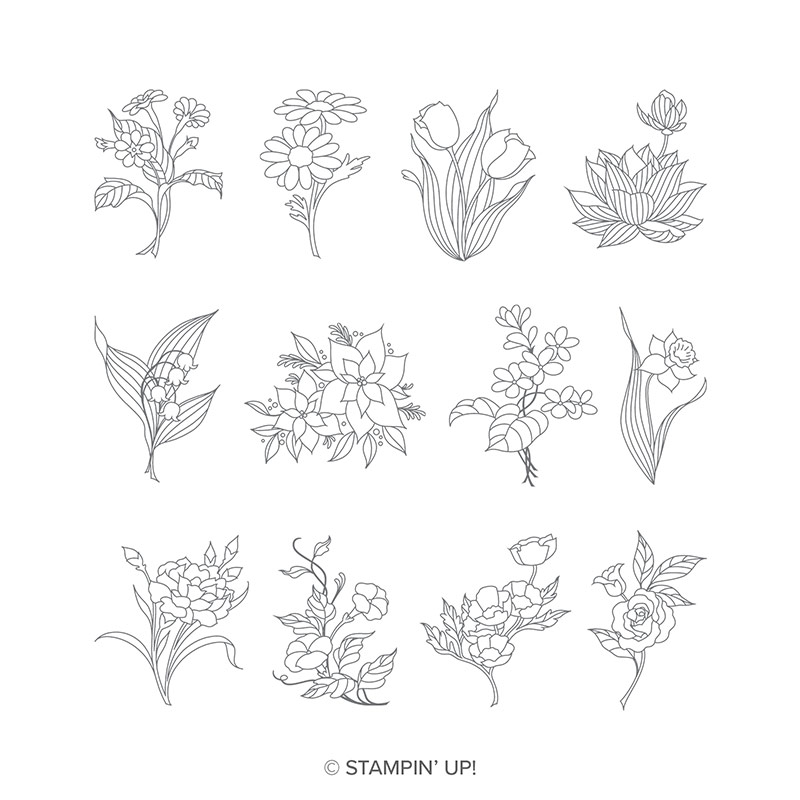 I knew I wanted to do something other than a card this month, and I have quite a few shadow boxes in my craft room inventory so I started to think of a project using one of them. And since I am anxiously waiting for some signs of Spring, this stamp set immediately came to mind.

I chose 3 images, stamped them using Memento Ink and picked the colors of Stampin' Blends I wanted to use and then I got busy. And just an added note, when you are coloring with our Stampin' Blends (alcohol markers) you must use Memento ink so that the outline doesn't bleed. After I fnished coloring, I felt like the images looked a little too plain, so I grabbed my Light Soft Sea Foam Blends and created a backgound for the images. I really like how it made the images pop.
After I finished coloring everything, I mounted the images on to Basic Black squares.
I tried several different colors of cardstock to use as the background of my 5x7 shadow box, but I just couldnt find a color that really made the images stand out. So, I just went with white. And to give it a little texture, I scored lines vertically every 1/2". It's hard to see in the finished project unless you are holding it close. And a little bonus of having the vertical lines, it made lining up my squares a LOT easier!
And this is the finished project. A nice, clean home decor item that can be displayed pretty much all year! I do apologize for the quality of the photo, it's difficult to get a good image when you are trying to photograph something with a glass front
All the supplies used are at the bottom of my post.
Thanks so much for visiting my blog! Please continue hopping along with us this month and visit the extremely talented Jo Anne Hewins. I know she has another fabulous project for us!
Toni Campana - YOU ARE HERE!

Jo Anne Hewins

Tracie Evans Langley

Sharon Maranich

Sue Root

Robbie Rubala

Sue Stapp

Anita Trippi

Frances Wagner
Product List
Posted at Feb 24, 2019 08:00 PM | Comments [5]
Saturday, February 16, 2019
Sale-a-Bration 2nd Release Items
Today we are going to take a look at the new Sale-a-Bration releases. We've added 3 new items for you to choose from!

First up is a new stamp set called All Adorned (149728) and a sample card made using this set. I love the sentiments and the images in this set. This is available at the $50 level.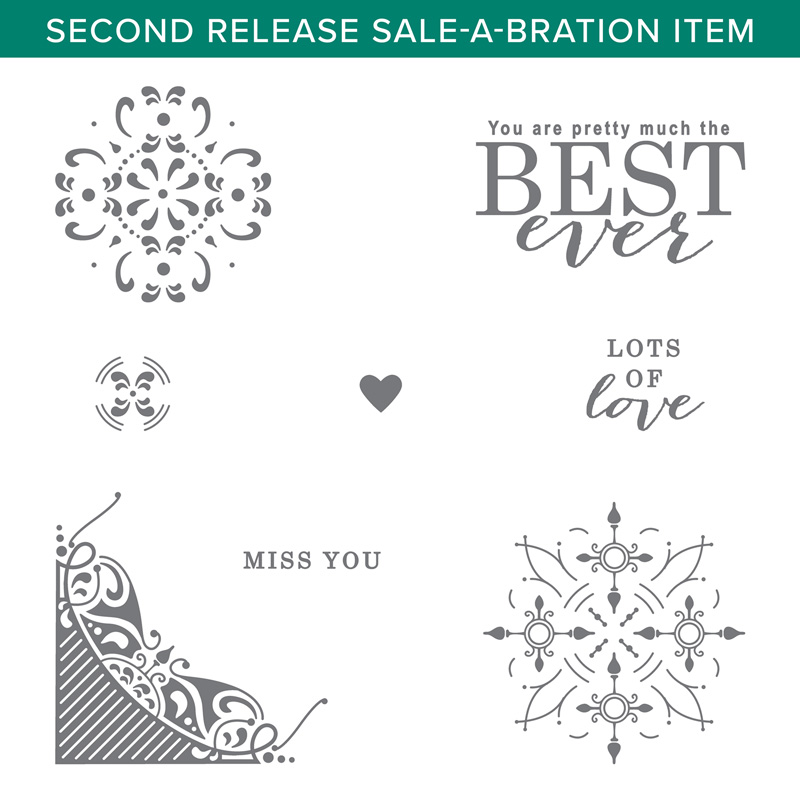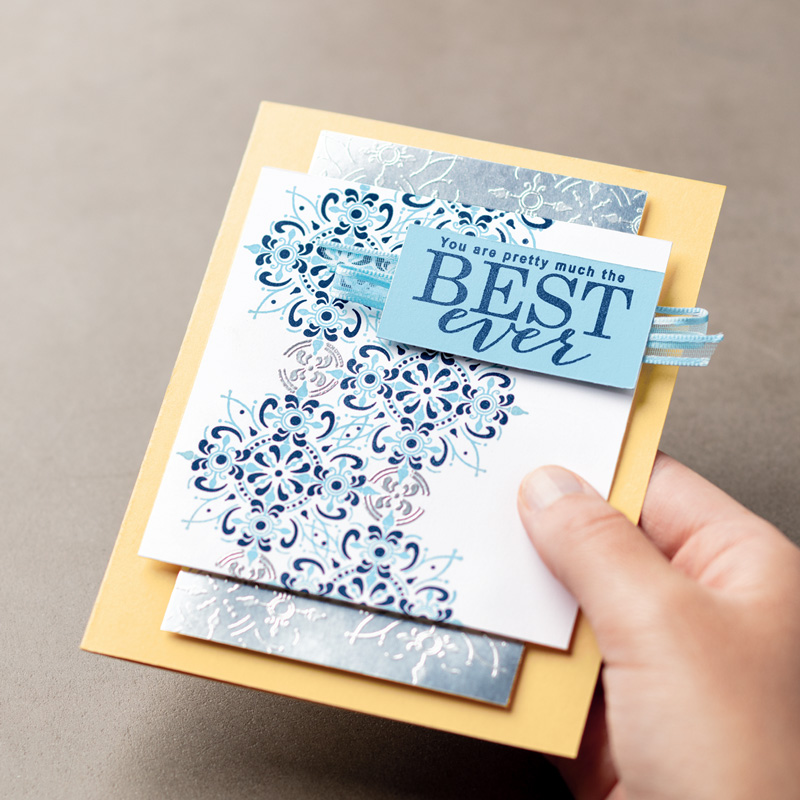 ---
The next new offering is Country Floral Dynamic Embossing Folder (149698) and a sample card. The image this folder produces is STUNNING!! There are so many possibilities for using this. You can emboss on foil papers, emboss on Whisper White card stock and use our markers to color in the detail (as seen in the sample card), any apply ink directly to the embossing folder are just a few of the ideas. This is available at the $50 level.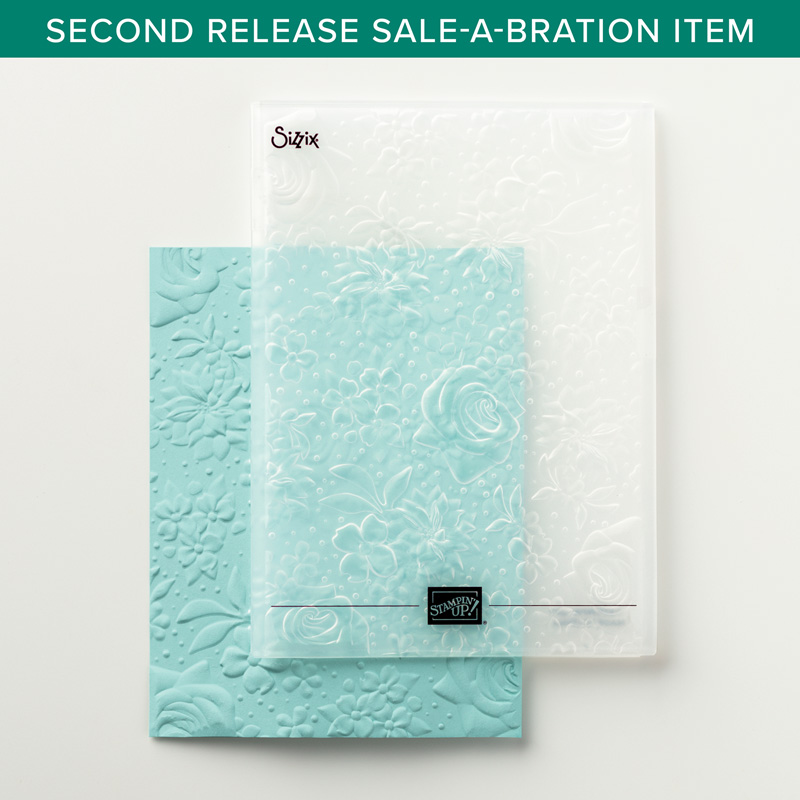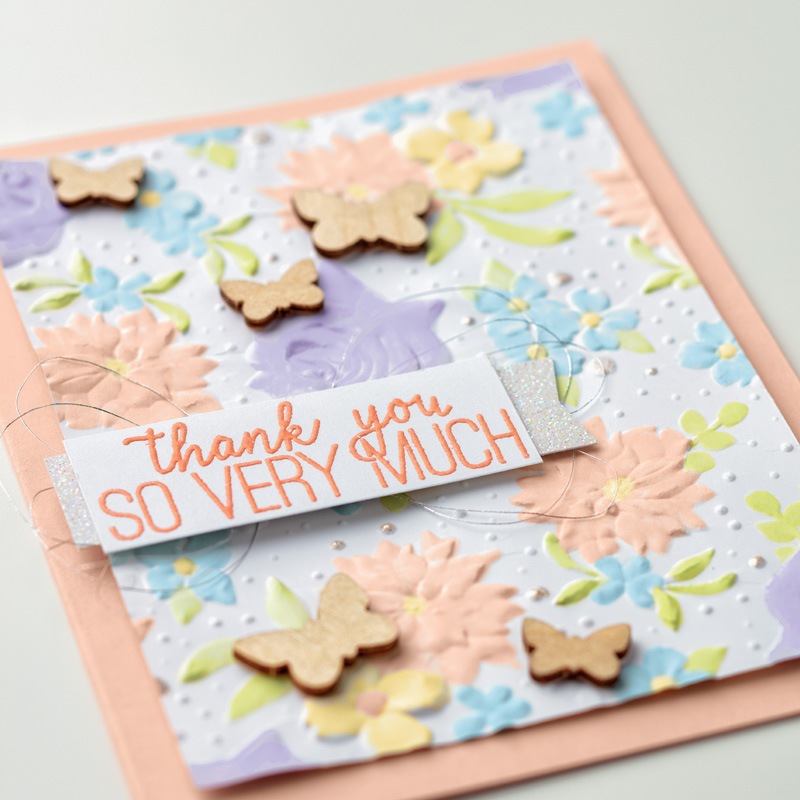 ---
And last but certainly not least is the Painted Seasons Bundle (150349) which comes with the stamp set and Designer series paper . This bundle is available at the $100 level. The patterns in the set of DSP are amazing!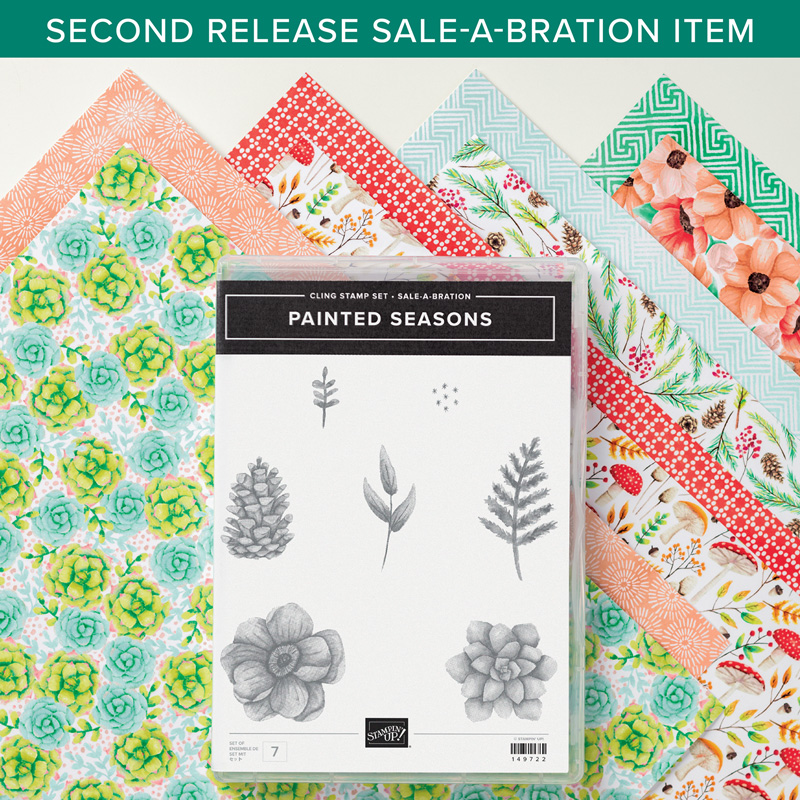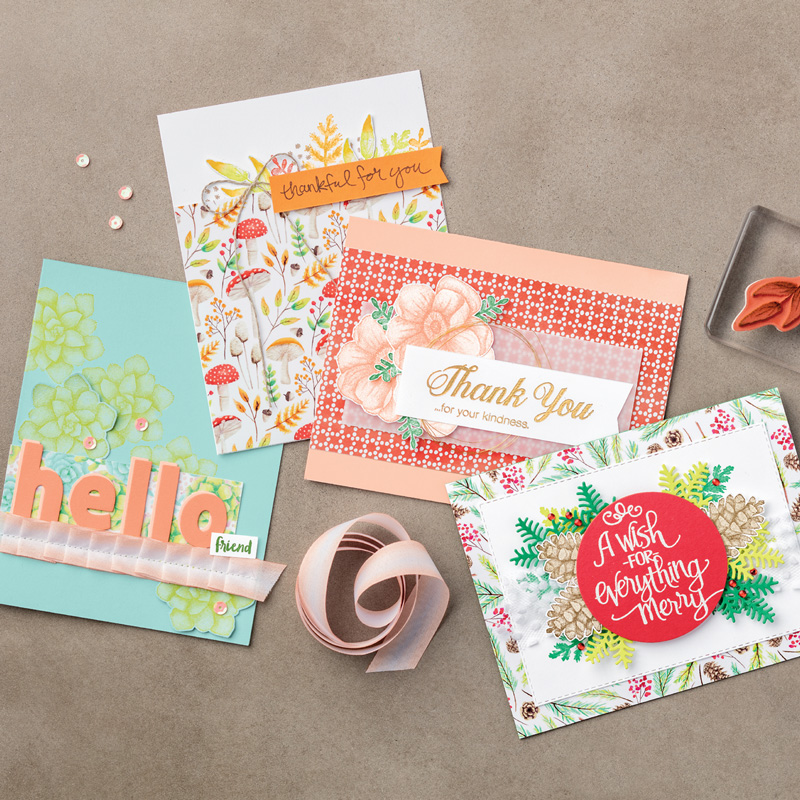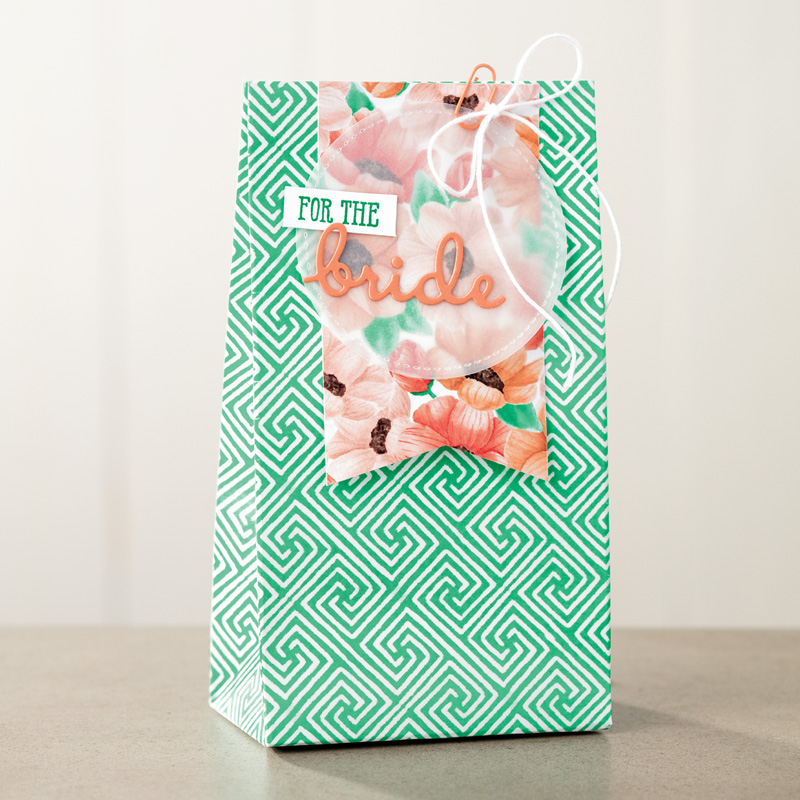 Click HERE to see a video that gives you a little more detail about this bundle.

I hope you've enjoyed seeing the new SAB offerings! And if you'd like to see everything that's available at both levels, along with some amazing projects, please visit my website by clicking HERE .

Thanks for stopping by today!
Posted at Feb 16, 2019 03:16 PM | Comments [0]
Monday, January 28, 2019
January NC Demos Blog - A Perfect Pair
Welcome to our January NC Demos Blog Hop! This is a GREAT start to the New Year because we have brand NEW bloggers this month!! Woo Hoo!! I'm so glad to see new people joining our hop, it's just so much fun and a great way to share. You may have just come from
Frances Wagner's Blog
and I know she had a great project!
Our theme for this month is "A Perfect Pair". We were to create something using items from both the current Occasions Catalog and the Annual Catalog. I know that everyone gets so excited when we unveil a new Annual Catalog, but a few months after that we come out with the Holiday Catalog. And then a few months later there's a new Occasions Catalog. I think we tend to forget our great Annual catalog when all the new goodies come out. So, this is a great way to make sure we aren't forgetting it!
My project wasn't supposed to be displayed until this blog posted, BUT I recently attended our NC Demonstrator Quarterly event and at the last minute, I decided to submit my card in one of the contest that are always held during these events. And to my honor and suprise, my card was in a 3 way tie for first place! The category was Simple Stamping (what we used to call Easy to Demonstrate). I was so glad I decided to submit it!
The idea for this card had been bouncing around in my head for a few days. I love the new
Geared Up Garage bundle
, but I wanted to see if I could venture outside the masculine mindset.
I immediately thought
PINK
and from there the rest of the card fell into place. I colored the car image using Lt. Flirty Flamingo blends and cut it out using one of the car dies.
Then I went right to our
Fabulous Flamingo
set in the
Annual Catalog
because I remembered that there was a sentiment that said "tickled pink for you"...PERFECT!
I stamped the sentiment on a scrap piece of Powder Pink cardstock and punched it using the
Tailored Tag Punch
, which is also in the Annual catalog.


Using another scrap of paper, this time Smokey Slate, I punched another tag. I cut that in half horizontally and then mounted each piece so that it framed the top and bottom of the Tickled Pink tag.
Next I used the "oil splatter" stamp with Smokey Slate ink. Then to add a little texture to the Whisper White mat I used the
Subtles Dynamic Embossing folder
, lightly spritzing the cardstock with water before running it through the
Big Shot
. This softens the fibers in the paper which allows it to show much more dimension from the folder. Just be careful not to saturate the card, just a light mist will do the trick. The pink car was adhered with Tombow directly to the Whisper White embossed piece. I cut a small piece of
Striped Metallic ribbon
and placed behind the tag and then attached it to the card with dimensionals.
I hope you enjoyed my out of the box idea for this masculine set. And that you won't forget our amazing Annual catalog while you are playing with your new purchases from the Occasions catalog. There are so many opportunities to find A Perfect Pair!
And just a quick reminder, no matter which catalog you purchase from, you will earn free Sale-a-Bration items for every $50 increment! This promotion ends on March 31st., so make sure you are making the most of it! It's a great time to
shop, host and JOIN
Stampin' UP! I'd love to have you on my team
I hope you will continue hopping with us and visit our next talented demonstrator and first time NC Demo Blog hopper,
Jackie Claes
. And I equally excited to share that Jackie is part of my team, Stamping Companions. I so happy that she has decided to join us this month
.
Toni Campana
- YOU ARE HERE!
Jacalyn Claes
Jo Anne Hewins
Tracie Evans Langley
Sue Root
Robbie Rubala
Sue Stapp
Cheryl Svendsen
Anita Trippi
Frances Wagner
Product List
Posted at Jan 27, 2019 08:00 PM | Comments [10]
Tuesday, January 8, 2019
Sale-a-Bration - What's it all about?
We have just started a very exciting time of year at Stampin' UP! If you are new to SU!, you may not be familiar so I'd like to explain why it's so special. And if you have been around for a while, it never hurts to refresh your memory!

During Sale-a-Bration, there are 3 ways that you can benefit from the promotion. The first is that you can earn FREE merchandise, just for placing your normal orders. For every $50 or $100 order (total before shipping & tax) you get to select something free from the SAB catalog! Many of the items are created to coordinate with items in our new Occasions Catalog, so you'll want to have both the SAB brochure AND the Occasions catalog handy when placing orders. And if you prefer to have real copies in your hand versus the online versions, please let me know and I'll get them to you! You can shop on my website here.

The 2nd special deal during this promotion is that you can earn ADDITIONAL HOST BENEFITS when your order reaches $250. And you DON'T actually have to host a workshop! This is a great time to stock up on stamping supplies for yourself, or combine your order with a friend (or friends!) and earn $25 MORE in stamping rewards!

And the 3rd, and probably my favorite benefit is the additional bonus you can receive if you decide to join SU! during SAB. The normal kit price is $99, which would allow you to choose $125 in product for your kit. BUT, during SAB, you will receive an additional $50 in product!! Yes, that's right, you would choose $175 worth of merchandise for just $99! (Host sets and SAB items are excluded from the kit merchandise selection).

And as if that wasn't enough of a deal, SU! has sweetened the pot by giving you ANOTHER option for joining. For just $129, you will STILL get $175 in product, but in ADDITION, you will receive this amazing Craft Tote to carry all of your goodies! The tote is valued at $50, so you are saving $20! This tote is one of the best I've ever seen SU! offer, and I've been a demonstrator for over 20 years. It holds so much, it can even hold our Stampin' Trimmer, something none of my other totes will do. Here are a few pics, but they honestly don't do it justice.




And here's a quick video to show you all the features and benefits. And just a reminder, the ONLY way to get this Craft Tote is to join SU! during Sale-a-Bration. It is exclusively for new recruits! Oh, and I almost forgot, you also get FREE shipping on your kit!

So, what are the benefits of joining Stampin' UP!, aside from the 2 great kit options being offered right now? We'll, I'm glad you asked! Here they are:
You get to create your own kit! Choose ANY Stampin' Up! products (including bundles) to fill your kit. (Host sets and Sale-A-Bration gifts are excluded.)
20 to 25% discount on future purchases! Purchase the starter kit in January and receive a 20% discount (up to 25%) on additional demonstrator purchases thru a minimum of July 31, 2019. This timeframe allows you to enjoy your discount on the new annual catalog pre-order, which happens in May (the catalog launches in June!)
Perfect timing! You will have the same amount of time (through July 31, 2019) to reach your first $300 sales minimum and renew for the Stampin' Up! July – September quarter. Each quarter requirement is $300 in sales after that, and you are given one month's grace period should you not reach that requirement by the end of the quarter.
Enjoy demonstrator discounts and benefits while you are active with no risk and no penalty to drop.
As a demonstrator, you get exclusive views of new product and catalogs! View new catalogs and pre-order products a month (or more) before their release (and at a discount)!
A perfect fit! This offer is for those who are just looking for a hobby, or if you want to work it as a business. YOU make the choice.
It's just FUN!!! There are no obligations to host workshops or parties, sell products to anyone else or personally purchase anything once you've purchased the kit! If you decide that it's just not for you, that's fine. Again, THERE IS NO OBLIGATION!
But if you're anything like me, you'll want to keep on gaining all the benefits that come with being a demonstrator. I have a great team of demonstrators and we LOVE welcoming new members! You can become a member of my team by clicking here and filling out all the info. And if you have ANY questions, just reach out to me, I'm more than happy to answer or walk you through the process.
So, that's all the info about Sale-a-Bration! WOW!! As I said, it's an exciting time. Just remember, SAB ends on 3/31, so don't delay in take advantage of all SAB has to offer
Posted at Jan 08, 2019 03:45 PM | Comments [0]
Sunday, December 30, 2018
NC Demos December Blog Hop - Sale-A-Bration Celebration!

Welcome to my post for this month's NC Demos Blog Hop! I appreciate you taking the time to check us out this month. I know that everyone has been so busy preparing and celebrating Christmas, so I hope you take advantage of being able to just sit and enjoy the projects we all created for this month. You may have just come from Frances Wagner's Blog. If you did, I know that you loved her project, she's so very creative!


This month's theme is Sale-A-Bration (SAB). This is a yearly promotion that allows you to earn FREE items based on your purchases. For every $50 you spend, you can earn something for free. And you can choose from stamp sets, Designer Series paper, embellishments, dies, and kits! There's something for everyone. If you do NOT have a SAB prochure, please let me know and I'll get one out to you immediately! AND, if you've ever thought about joining the Stampin' UP! family, SAB is a great time to do so. You already get a great deal when you sign up to be a demonstrator, but during SAB, you get so much more!! Contact me if you'd like more information about it
For my project this month, I decided to use the Home to Roost stamp set. I love the style of this set. The Rooster lends itself well to just be stamped in a single color, or stamped in black and colored with Stampin' Write Markers, Stampin' Blends or Watercolor Pencils. I decided to go with a simple design. And honestly, after the hustle and bustle of the holiday, I NEEDED simple, lol! I think this card would be great to show a beginning stamper. It's not overly complicated, just ink (Stampin' Blends, in this case), stamps and paper!
I almost always gravitate to full size cards when I'm creating, but decided to use our note cards this time. I cut Whisper White cardstock into a 2 1/2 x 2 1/2 square and stamped the rooster using Memento Black ink. Then I colored him using the light Stampin' Blend versions of Real Red, Smoky Slate, Mango Melody, Soft Suede and Crumb Cake. Then I matted those pieces onto 2 5/8 x 2 5/8 squares of cardstock that coordinated with the color Stampin' Blends that I used. Well, except for the Mango Melody, I didn't like the way that paired with the stamped image so I switched it out to Daffodil Delight.
Next I stamped the grass using Memento Black, but I stamped off twice. I also only stamped the top half of the image on the bottom of my note cards. I wanted to be sure to leave enough room for the sentiment to be under the Rooster image. I also stamped one image of the grass on the inside of the note card and also on the outside of the envelop, to tie everthing together. Then I tied 2 pieces of Black Bakers Twine around the bundle. You can see all the products I used at the bottom of this post.
It took no time at all to make this little set of note cards. I'm thinking of giving it away as a door prize at my Open House on 1/5. I have a fair amount of new potential customers and if they sign up to receive my newsletter I will give them a door prize ticket. Keeping my fingers crossed for getting a few new attendees for my monthly classes!

One quick

REMINDER

! You only have until January 2nd to order from the 2018 Holiday Catalog! If there are any items that you've been waiting to order, now is the time to do it
To see the retiring items, click HERE!

I hope you enjoyed this project and that you take advantage of all the great Sale-a-Bration products that will be available starting on 1/3! Thanks for checking out this month's blog, and please continue on to see what the rest of the talented team has for you to see!

Jo Anne Hewins

is next
Toni Campana - YOU ARE HERE!
Product List
Posted at Dec 30, 2018 08:00 PM | Comments [3]
Saturday, December 1, 2018
SU! Ordering Deadline for the Holiday!!
Can you believe that it's already Dec. 1st!? Yikes!! If you want to order and have your SU! goodies in time for Christmas, you MUST order by 12/13 to receive by Christmas Eve! But I would highly encourage you to order before then to ensure you will have your items.
Not sure what to give your crafty friends or family? I can provide SU! gift certificates
😊 I can mail them directly to you or the recipient, you decide.
AND, if you are ordering from me this month, please use host code 9YBPM494. You will receive an extra special thank you gift from me.


😉
Posted at Dec 01, 2018 11:19 AM | Comments [0]
Monday, November 26, 2018
NC Demo's November Blog Hop - Holiday Happenings!
Welcome to our NC Demo's November Blog Hop! I hope everyone enjoyed their Thanksgiving. And I'm sure many of you are already off and running into Christmas, lol! I'm always one of those people who just have to wait until Thanksgiving is over before doing anything Christmas related. So, now I'm ready to jump in.

I'm glad to be able to get back to sharing with you all. It has been several months and I wasn't sure I was going to be able to participate in this one. But, luckily I had a little time to whip something up. I held my monthly stamp class yesterday and we made this card using the Dashing Deer stamp set. This set can be found in our 2018 Holiday CatalogI was inspired from a card I saw on Pinterest, made by Quinn Decamera. I changed the color scheme and used different ribbon on my version. I love Navy and Silver, I think it's one of my favorite combos!
I stamped the trees from Winter Woods across the width of the WW cardstock, using the Stamparatus to ensure I had even spacing. Then the sentiment was stamped at the bottom. I ran the stamped cardstock through the Softly Falling embossing folder to give the impression of snow falling. WW Polka Dot Tulle ribbon was wrapped around the cardstock and tied in a knot, then that was adhered to a piece of Gray Granite CS and everything was attached to the Night of Navy card base. I cut the deer on Silver Foil and used Dimensionals to mount it to the card front. And for a little extra bling, I added the Basic Rhinestones.

I wanted to also create a little gift box to go along with the card so I grabbed a Mini Pizza box and carried the same design over to that. I love these boxes, they are so versatile and fun to work with. Once I stamped the trees, I also embossed the box using the Softly Falling embossing folder. I really gives added texture to the top of the box. I used one of the smaller deer thinlets and adhered him (or her!) to the tied Polka Dot Tulle using a glue dot. You can fill the box with a gift card, candies, jewelry, the possibilities are endless!
I hope you enjoyed my projects! All supplies used can be found below. And now I hope you continue hopping along with us and check out the very talented Jo Anne Hewins. She always has some amazing projects to share with us!
Toni Campana - You are HERE!
Product List
Posted at Nov 25, 2018 08:00 PM | Comments [3]
Wednesday, October 3, 2018
Did you know that the 1st Saturday of October is National Card Making Day? To celebrate that day, Stampin' UP! is offering discounts on select stamp sets and stamp kits to help you share the love! Show someone how much you care by sending them a hand made card!


Just click on the graphic below to go directly to the shopping page for this offer. But don't delay, the sale is only good until 10/7!!
Posted at Oct 03, 2018 01:51 PM | Comments [0]